Voici des portraits version manga de deux amies No-Xicienne Kômori et Saisei !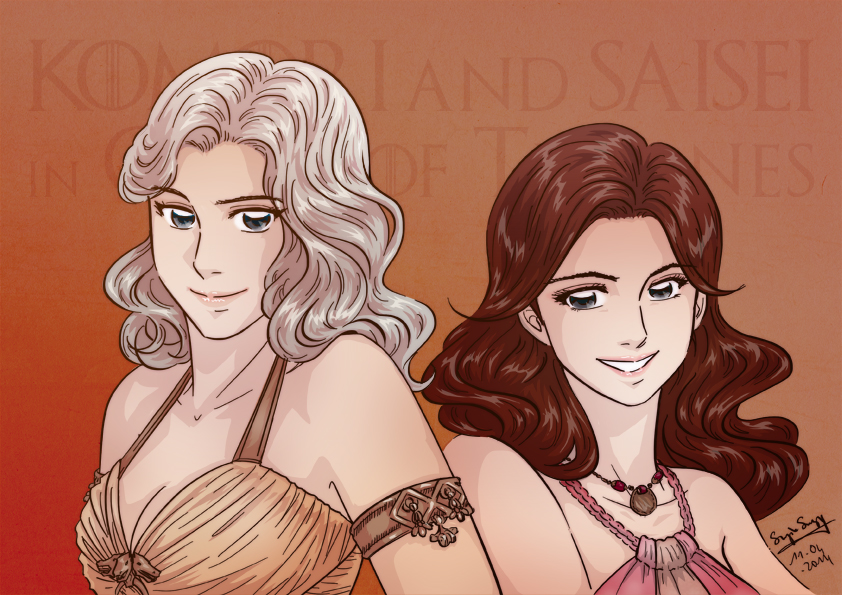 Tadaaa !!! Donnez-moi deux jours de temps libre et je boucle plein de dessins 😎
voici donc Kômori en Daenarys "Mother of the Dragons" Targaryan et Saisei en Shae, protégée du prince Tyrion (un de mes personnages préférés !).
Je devais ce gift pour l'anniversaire de Kômori puis de Saisei, soit il y a presque 3 mois 😮
Mais entre le boulot et mon problème de bras (des pauses longues et régulières), j'avais peu de temps de disponible … mais surtout … pfiuuu pas évident à faire ! Je suis passée par trois ébauches, dont un jusqu'au crayonné pas abouti, avant de parvenir à ce résultat. A savoir, que quand je ne me sens pas satisfaite de l'idée, je dessine mal, les précédentes idées étaient donc catastrophiques  ^_^'
Je suis repartie sur une base IRL (des photos de conventions), et là c'était beaucoup mieux ! Tellement que c'est en terminant les ombres que j'avais pensé leur soumettre le crayonné … heureusement pour moi, elles aiment beaucoup le dessin  😀
Wacom Intuos 2 + Photoshop CS 5.1 + ~ 15h